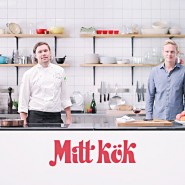 Sara blir frontspeaker för Mitt Kök.
Under 2012 kommer Mitt Kök med Jens Dolk (vinexpert SvD) och Tommy Myllymäki (årets kock 2007) att synas i en tv-kampanj. Sara kommer sköta voice over-delen och låna ut sin röst till filmerna.

Throughout 2012 the My Kitchen commercial starring Jens Dolk (wine expert at SvD) and Tommy Myllimäki (Chef of the year 2007) will be broadcasted in a national tv-commercial campaign. Sara will be covering the voice over part and lend her voice to the commercials.